Blood cancer
Blood cancer occurs when stem cells in your bone marrow produce an uncontrolled growth of abnormal blood cells. These cells keep your blood from fighting infections and preventing excessive bleeding. Treatment options include chemotherapy, radiation therapy and stem cell transplantation.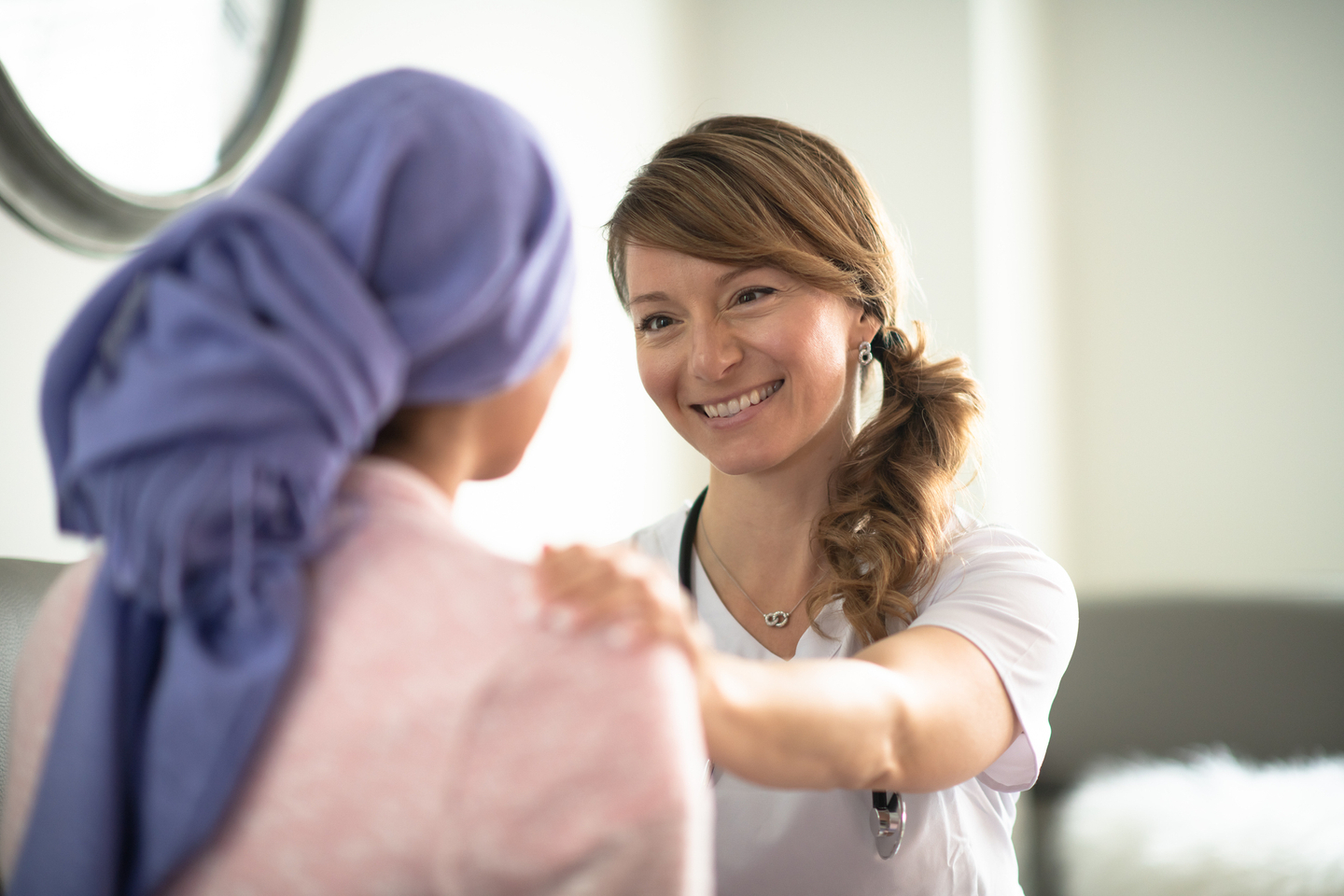 Hematologist oncologists in Nashville, Tennessee
Cancer or genetic disorders that affect your blood can be painful and hard to understand. We are here to help.
Our hematologists, oncologists and other medical experts provide expert care for leukemia, lymphoma and bone marrow disorders. Throughout it all, we completely support you and your loved ones.
About Sarah Cannon Cancer Institute
As part of Sarah Cannon, the Cancer Institute of HCA Healthcare, our family of hospitals provides comprehensive cancer services with convenient access to cutting-edge therapies for people facing cancer in our communities. From diagnosis to treatment and survivorship care, our oncology expertise ensures you have access to locally trusted care with the support of a globally recognized network.
askSARAH Helpline
Have cancer questions? We can help. askSARAH is a dedicated helpline for your cancer-related questions. Our specially trained nurses are available 24/7, and all calls are confidential. Contact askSARAH at (615) 514-2401 or chat online at askSARAHnow.
Blood cancers and hematological conditions we treat
Our team of specialists has extensive experience with treating conditions that affect your blood and bone marrow. Some of the disorders we treat include:
Acute lymphocytic leukemia
Acute myeloid leukemia
Amyloidosis (amyloid disease)
Aplastic anemia
Chronic lymphocytic leukemia
Chronic myeloid leukemia
Hodgkin's lymphoma
Myelodysplastic syndrome
Non-Hodgkin's lymphoma
Paroxysmal nocturnal hemoglobinuria (PNH)
Our blood cancer and hematology care
We are fortunate to be able to offer you and all our patients leading-edge treatment services for a range of disorders that affect the blood and bone marrow.
The blood cancer services we offer
You deserve to receive not only the best possible care, but also care that is suited to you and your specific circumstances. To meet that need, we provide a variety of treatment options so that you and your medical team can create a plan that is tailored to you.
Blood and marrow transplant
Blood and marrow transplant (also known as stem cell transplant) helps the body regain the ability to make blood cells after high-dose chemotherapy or radiation therapy. Although these therapies are used to kill blood cancer cells, it also destroys healthy cells. A blood and marrow transplant can help replace what was lost during radiation treatment.
Chimeric antigen receptors (CAR) T-cell therapy
CAR T-cell therapy is highly specific treatment in which a sample of your T-cells, a type of immune cell, are genetically modified to target and destroy cancer cells. Your modified immune cells are then replicated and given to you as a transfusion during treatment.
This type of therapy is only available at centers where doctors and nurses have been specially trained and meet Foundation for Accreditation of Cellular Therapy (FACT) accreditation standards.
Chemotherapy
Chemotherapy is often given as a treatment for certain kinds of leukemia. In chemotherapy, anti-cancer drugs are given to you orally, intravenously or occasionally via cerebrospinal fluid in order to destroy cancer cells throughout the body.
Radiotherapy
Radiotherapy — also called radiation therapy — uses radiation to destroy cancerous cells. It is also used as a pre-operative treatment that is administered before a bone marrow or blood stem cell transplant in order to ensure the effectiveness of these transplant treatments.
Cancer support groups
Whether you are a current cancer patient or in remission, having support is an important part of your mental and emotional health. Support groups can be a life-giving resource, uniting patients with cancer, survivors and their families. Additionally, many of these groups offer educational seminars, workshops and other social events. We invite you to visit our cancer support page or speak with your nurse navigator for more information about these programs.
Looking for a location?
We also offer quality care at these other locations in our extended network.
Thrive Blog
Read our blogs to learn about preventive care and ways you can lead a healthier lifestyle.