Blood cancer
Blood cancer occurs when stem cells in your bone marrow produce an uncontrolled growth of abnormal blood cells. These cells keep your blood from fighting infections and preventing excessive bleeding. Treatment options include chemotherapy, radiation therapy and stem cell transplantation.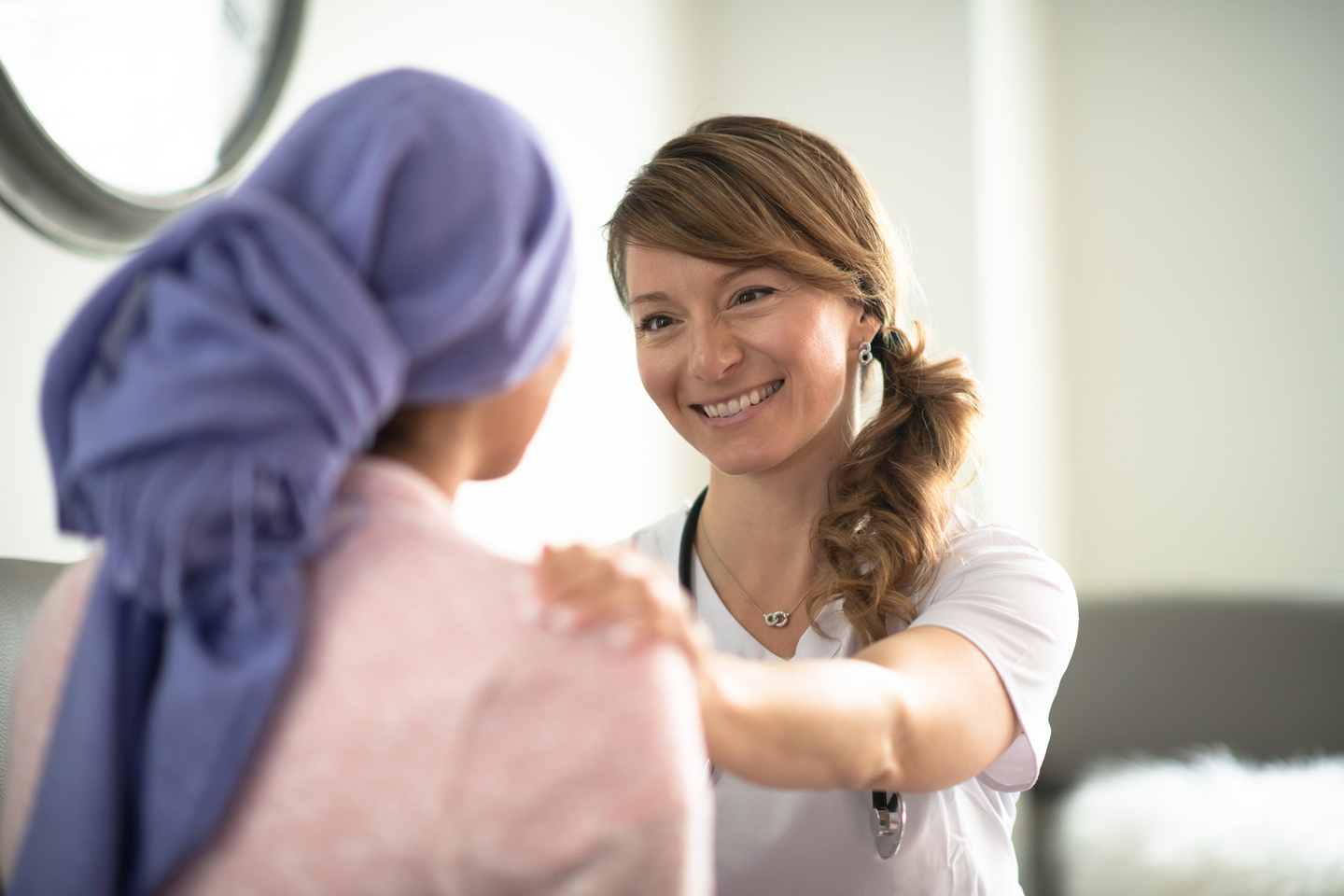 Blood cancer treatment center in Nashville, Tennessee
Our doctors provide caring, comprehensive blood cancer care, offering treatment tailored to your condition.
At the Sarah Cannon Transplant and Cellular Therapy Program at TriStar Centennial, we know a cancer diagnosis affects every aspect of your life. As an industry leader in patient care, our blood cancer team ensures you have access to resources and advanced technology. Our hematologist oncologists offer the latest treatment options including CAR (chimeric antigen receptors) T-cell therapy, an innovative, FDA-approved treatment designed to harness your body's immune system.
Have cancer questions?
We can help. askSARAH is a dedicated, confidential helpline for your cancer-related questions. Our specially trained nurses are available 24/7.
We can help. askSARAH is a dedicated, confidential helpline for your cancer-related questions. Our specially trained nurses are available 24/7.
About Sarah Cannon Cancer Institute
As part of Sarah Cannon, the Cancer Institute of HCA Healthcare, our family of hospitals provides comprehensive cancer services with convenient access to cutting-edge therapies for people facing cancer in our communities. From diagnosis to treatment and survivorship care, our oncology expertise ensures you have access to locally trusted care with the support of a globally recognized network.
askSARAH Helpline
Have cancer questions? We can help. askSARAH is a dedicated helpline for your cancer-related questions. Our specially trained nurses are available 24/7, and all calls are confidential. Contact askSARAH at (615) 514-2401.
Related specialties
Learn more about our related specialties.
Blood disorders and other conditions we treat
Our board-certified blood oncologists treat several conditions, including:
Aplastic anemia
Acute lymphocytic leukemia (ALL)
Acute myeloid leukemia (AML)
Amyloidosis
Chronic lymphocytic leukemia (CLL)
Chronic myeloid leukemia (CML)
Hodgkin's lymphoma
Multiple myeloma
Myelodysplastic syndrome (MDS)
Non-Hodgkin's lymphoma (NHL)
Paroxysmal nocturnal hemoglobinuria (PNH)
Testicular cancer
Blood cancer services
Our blood cancer specialists care for your cancer type and stage.
Blood cancer care we offer
Our cancer team provides a range of treatments including:
CAR T-cell therapy (use of patient's immune system to fight cancer)
Chemotherapy
Drug therapy
Radiation therapy
Blood and marrow transplant (BMT)
For some patients, a blood and marrow transplant also known as stem cell transplant may be necessary for their condition. BMTs assist the body in making blood cells after intense chemotherapy or radiation therapy. These therapies are used to kill blood cancer cells, but they are not targeted. This means healthy cells are also destroyed in the process. A BMT can help replace those cells.
Finding our blood cancer treatment center
Our Nashville cancer center is located on the TriStar Centennial campus.
This center offers valet parking at the entrance, and self-parking is also available. As you enter the building, take the elevators on your right to the fifth floor, where our staff will greet you.
Our Knoxville outreach clinic
Our location in Knoxville, Tennessee may be a convenient option for your needs.
Finding our Knoxville office
In addition to our location in downtown Nashville, we have an outreach clinic in Knoxville, Tennessee. For more information or to schedule an appointment at the Knoxville location, please call (615) 342-7440. Our address is:
Sarah Cannon Center for Blood Cancer - Knoxville
1415 Old Weisgarber Rd, Suite 250
Knoxville, TN 37909
---
Finding our Knoxville office
Looking for a location?
We also offer quality care at these other locations in our extended network.
Thrive Blog
Read our blogs to learn about preventive care and ways you can lead a healthier lifestyle.