TriStar NorthCrest continues to lead the way for heart health
Cardiac scoring can provide valuable heart health insights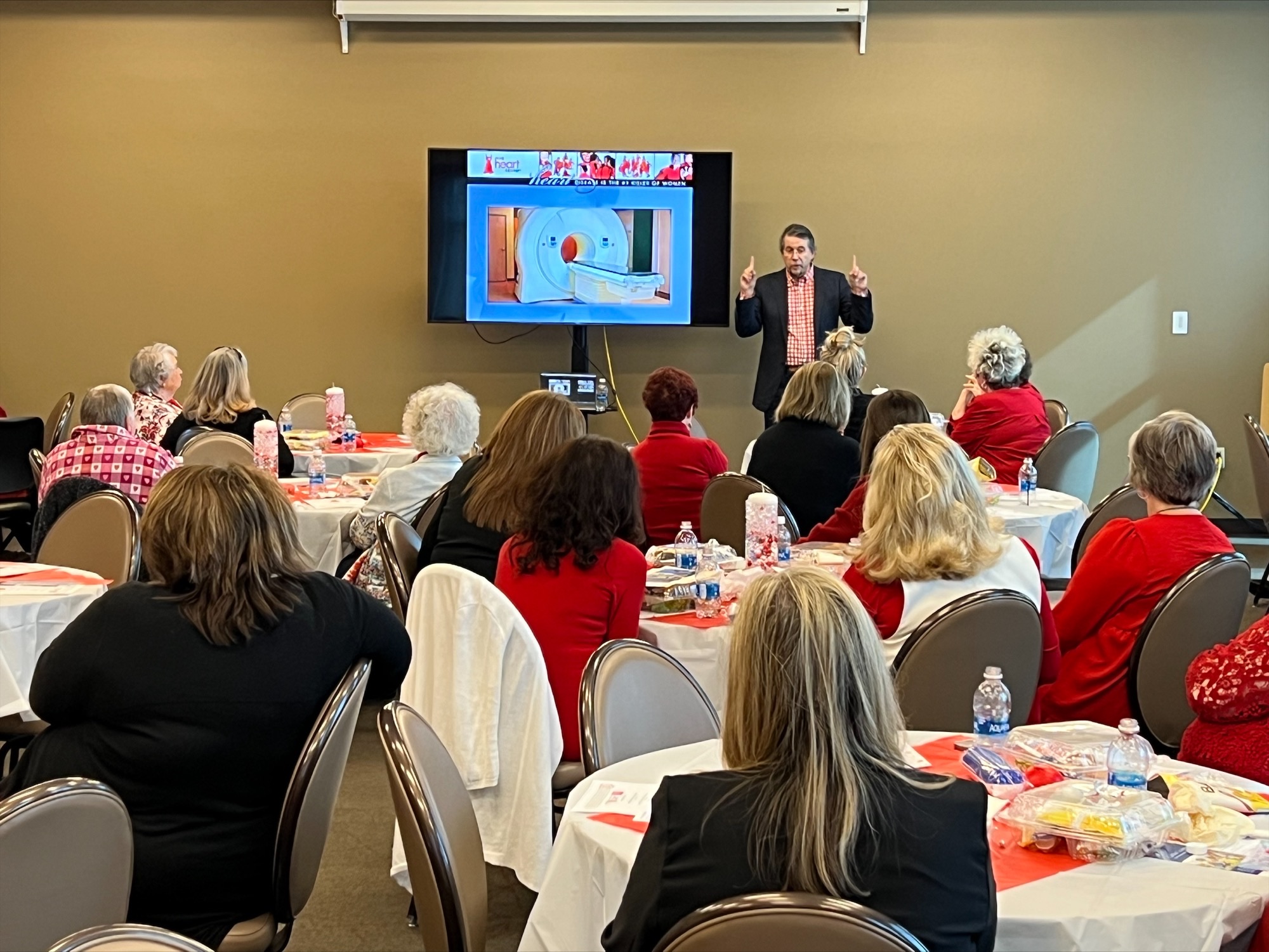 In honor of Heart Month in February, TriStar NorthCrest Medical Center in Springfield has provided a variety of resources to educate people on the risk factors of heart disease, while offering new tools and procedures to detect early warning signs of a potential heart attack.
On Feb. 10, NorthCrest hosted a Red Dress Luncheon to highlight heart health in the community.
According to the CDC, heart disease is the leading cause of death for women in the United States, especially among women. Attendees had the opportunity to hear from heart health experts and learn ways they can prevent heart disease as well as opportunities to identify heart related conditions that could be problematic in the future.
During the event, which was sponsored by Farm Bureau Women and the Robertson County Health Department, the hospital served a heart healthy lunch as Dr. Albert Koch, one of its cardiac specialists served as the keynote speaker for the event. The health department provided free blood pressure screenings, and the Farm Bureau Women's group provided decorations and door prizes.
Dr. Tracy Callister, who oversees TriStar's cardiac catheterization lab, specializes in cardiovascular disease cardiology with over 44 years of experience. He recommends some of the typical lifestyle habits to maintain heart health, such as not smoking, eating healthy by avoiding too much fatty and greasy foods, exercising on a regular basis, and treating your blood pressure if you have diabetes.
While some diseases can affect people at any age, the number one risk factor for heart attacks, strokes, or bypasses is simply from getting older. Because age can't be controlled, it remains important for those around middle age to be more aware of potentially having increased risks for heart disease.
"Beyond that, if you have high blood pressure, that's actually a marker," Dr. Callister said. "The reason you have high blood pressure is because your arteries are hardening up. They're the pipes, and as they clog up the pressure goes up just like any pipe. So, while we call it a risk factor and we treat it, it's really just a marker. You're starting to get some problems. It may be very early or mild, but it's a little different than a risk factor. But it's certainly something people can watch and check for."
Additionally, although high cholesterol is important, Callister says it's not as important as some may think. Many people with low blood pressure can still get heart disease, while others with high blood pressure never do.
Over the past 4-5 years, because of new advances in technology, TriStar has developed a better way to approach these markers of heart health. In the past, tests that were used were both expensive and somewhat risky, requiring tubes, dye, or radiation to be placed inside the body. But now patients in Robertson County have access to a new upgraded version of a plaque scan, known as calcium scoring.
"It's only $45; there's no needles, no dye, no exercise," Callister said. "It takes seconds with a very small amount of radiation and its almost a perfect test. If it says you don't have it, people can go ten years without any heart attacks, even if you're diabetic."
According to Dr. Callister, the scan looks at the plaque in the arteries, a mixture of fat, cholesterol, and calcium components. The X-ray can easily find clumps that have calcium mixed with cholesterol in them, so doctors know how much you have and how fast it is building.
Although calcium scoring is compared to being like a mammogram of the heart, it is actually more accurate than a mammogram, which is known to sometimes produce false positives.
"This test is essentially perfect. It finds it if you have it, and if it says you have it, its right," Callister said. "That doesn't mean you're ready to have surgery. Most of the time it picks it up early and its time to start treating it with a simple pill for blood pressure and cholesterol."
It is suggested that people receive this test by age 45. As long as it comes back negative, it only has to be checked again once every five years. If significant plaque buildup is found, patients are then advised to consult with their doctor about the various forms of treatment.
Callister says that heart disease can go in one of four directions. A minor blockage problem can be treated with medicine. If its further down the road, stints may be needed, which is performed at NorthCrest. Patients will be sent to a hospital in Nashville if the situation is so serious that bypass surgery is required.
"If it's just prevention, we put you on medicine. Most blockages we can fix it right here in Robertson County with a stint and you go home the next day. But if you're that small number that has blockages everywhere and requires a full surgery, then you go to Nashville from there."
A weak heart, referred to as heart failure, is usually treated with tailored medications at advanced heart failure clinics in Robertson County. It also sometimes requires special pacemakers or defibrillators, which are put in to boost the heart and protect it from fibrillating.
Additionally, buildup can extend down into the middle of the body through the aorta, or extending into the legs, which is called peripheral artery disease. Dr. Callister says that these cases are also mainly treated with stints now.
The fourth thing that can happen is trouble with heart valves. These are detected through ultrasound, MRI, and cat scans. Some valve problems can just be monitored, while others can be treated with medicine. Serious valve problems, until recently, could only be treated with surgery. In the last few years there's been a breakthrough where they can go in through your leg and fix the valves.
According to the 2022 Tennessee County Health Rankings, Robertson County ranked 16th out of 95 counties, based on the number of serious heart attacks, strokes, and deaths due to the heart. This places them in the top 20% but Dr. Callister says its not as good as they want and are looking to stay in the top 10%.
"When we look at the county for heart attack deaths, we're in the top 20% and we can be proud of that, but we of course would like to do better. This is partly because we don't have as many primary care doctors as we want, and we have a lot of people who still haven't been screened. To be honest with you, many who we screen don't take their medicine or keep on smoking. Still overall, we can feel fairly proud. We just need to continue working to do better."
Location:
TriStar NorthCrest Medical Center
Related Newsroom Articles