TriStar Hendersonville Medical Center recognized among 100 top hospitals by Fortune/PINC AI
TriStar Hendersonville also named an Everest Award winner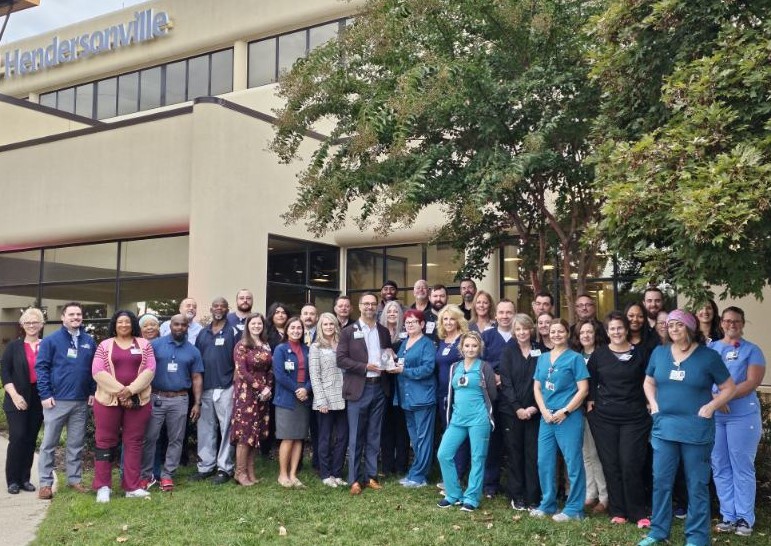 Hendersonville, TN - TriStar Hendersonville Medical Center, a part of HCA Healthcare, announced that it has been recognized on the 2023 Fortune/PINC AI 100 Top Hospitals list for excellence in patient outcomes and experience, operational efficiency, financial health and community impact. TriStar Hendersonville was recognized in the medium community hospital category. The esteemed list aims to inspire hospital and health system leaders to strive for higher performance and provide added value to the patients and communities they serve.
"It brings me great joy for our clinical teams and colleagues to be recognized as the #3 medium-sized community hospital in the country. We see their commitment to providing compassionate care to our community every day, but today we are especially grateful to Fortune/PINC AI for recognizing our efforts and outcomes on the national level," said Justin Coury, chief executive officer at TriStar Hendersonville.
According to Fortune/PINC AI, this year's 100 Top Hospitals study used a balanced scorecard approach focused on clinical, operational, financial, and patient perception to evaluate 2,644 short-term, acute care, non-federal U.S. hospitals. Unlike ranking programs that require hospitals to apply for evaluation, the program is strictly based on performance and publicly available data, including Medicare reports and patient satisfaction data.
In comparison to other hospitals, the study found the top 100 hospitals had better outcomes, including lower mortality rates, fewer complications, lower healthcare associated infection rates and shorter lengths of stay.
In addition to scoring among the top 100, TriStar Hendersonville received the Everest Award for setting national benchmarks for the fastest, most consistent improvement rates and highest current year performance. This additional distinction recognizes the dedication of the boards, executives and medical staff leaders who developed and executed the strategies that helped drive the highest rates of performance improvement over the five-year period measured in the study.
TriStar Hendersonville is among 32 HCA Healthcare hospitals who were recognized on the list this year. For more information, go to TriStarHealth.com.
Published:
October 09, 2023
Location:
TriStar Hendersonville Medical Center
Related Newsroom Articles