TriStar Greenview celebrates milestone with leading-edge augmented reality technology
TriStar Greenview Regional Hospital celebrated the 100th procedure using groundbreaking augmented reality (AR) guidance.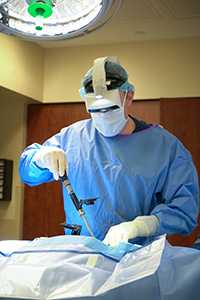 Bowling Green, KY — TriStar Greenview Regional Hospital recently celebrated the 100th spine surgery procedure using a groundbreaking augmented reality (AR) guidance system. In 2021, TriStar Greenview became the first hospital to use the technology in Bowling Green and in Kentucky.
"Ensuring our community has access to the highest levels of healthcare is a top priority at our hospital," said Mike Sherrod, CEO of TriStar Greenview. "The AR guidance system puts advanced technology in the hands of gifted surgeons, allowing them to optimize surgical outcomes and elevate the standard of care found in our region."
Unlike other image guidance modalities, the AR spine system includes a transparent near-eye display headset that allows surgeons to focus directly on the patient while placing implants, rather than on a screen several feet away. The system tracks surgical instrumentation in real-time and superimposes them onto CT imaging of the patient's anatomy, which is then projected into the surgeon's eyes through the headset. This affords surgeons a higher level of focus, which is a tremendous benefit when placing implants during open or minimally invasive spine procedures.
"Spine surgery can be highly complex, and each patient's anatomy is unique, so the ability to view imaging without having to take my eyes away from the patient is a game-changer," said Christopher Cook, DO, a spine surgeon on the medical staff at TriStar Greenview. "It really is like having X-ray vision. Through 100 procedures, the AR system has helped yield excellent patient outcomes, and I'm proud to have played a role in introducing this technology to Bowling Green."
TriStar Greenview has a proven track record of introducing leading-edge technology to south central Kentucky. Most recently, the hospital added an innovative orthopedic robot-assisted surgical system to its stable of joint replacement treatments.
Location:
TriStar Greenview Regional Hospital
Related Newsroom Articles