Not your traditional hip replacement — John Link
John Link, 58, lived with debilitating hip pain for years to avoid having hip surgery again. He wouldn't have waited so long to have his second hip replacement if he had known about a procedure being performed at TriStar Centennial in Nashville, Tenn., sooner. The anterior approach cuts recovery time in half and provides great mobility post-surgery.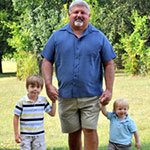 John Link
Just three weeks after having a hip replaced, John Link was back to work full-time and enjoying outdoor activities with his family.
This was quite a change from his first hip replacement just four years earlier that kept him out of work for two months and took nearly a year to fully recover from.
"I had the same physician replace both of my hips in the same hospital using two different procedures," Link said. "The difference in reduced recovery time and enhanced range of motion in getting back to my normal routine and activities with this new procedure is unbelievable."
Following his first traditional replacement, Link was out of work for six weeks and truly recovering for nine weeks. It took nearly a year for his hip to feel like his own again. By comparison, his second hip replacement with the new Anterior Supine Total Hip Replacement procedure only took three weeks of recovery time and to feel like himself.
"I had greater mobility at my first physical therapy appointment post-surgery from the new procedure than I did following my final physical therapy appointment after my first hip replacement surgery with the traditional procedure," he said.
Link had suffered from osteoarthritis for years, a result of wear and tear on his body that he believes to be a result of participating in high school wrestling and football programs. After suffering limited range of motion for 10 years and hip pain for five years, Link knew it was time to seek medical care. At age 54, he learned he needed his right hip replaced.
Orthopaedic surgeon Joseph Chenger, M.D., performed the Total Hip Arthroplasty – or replacement - at Centennial Medical Center in 2008. With physical therapy and patience, Link was back to his routine within a year.
Not long after, Link began experiencing pain from his left hip that was progressively impacting his lifestyle. Memories of recovering from his first hip replacement were still fresh and Link did not go back to the doctor right away. For a family man and busy professional in Nashville, being on limited activity and out of the office for another extended period of time was a concern.
"I have people in my life that depend on me to get back to normal so I can be part of their lives," he said. "I didn't think I could do that quickly enough with another hip replacement."
The pain became worse and made getting through his work day a challenge.
"Walking and bending became increasingly more painful. After a day at the office, I would go home and sit or lay down to try and find relief," he said. "Eventually the pain was so severe that even sitting and lying down caused pain rather than relief. I was facing physical disability."
At age 58, Link knew he needed his left hip replaced. When he finally went back to his orthopaedic surgeon, Chenger had surprising news to share. Link was a candidate for a new type of hip replacement procedure he was performing called the Anterior Supine Total Hip Replacement. The procedure would cut recovery time in half and provide great mobility post-surgery.
"I hadn't heard of the procedure before that appointment because it is so new and so few specialists are performing the surgery in this area," said Link. "I went home and watched an animated video about the procedure online and was convinced it was the right choice for me."
Chenger has performed more than 160 Anterior Supine Total Hip Replacements at TriStar Centennial Medical Center in Nashville, Tenn. Time and again, this procedure has proven a better option for his patients.
"Traditional hip replacement required accessing the joint from the patient's backside through a large incision and cutting through a good deal of muscle that is used in the patient's day-to-day movements," he explained. "This new procedure allows me to replace a patient's hip from the front side with only a small incision and, with the assistance of real-time imaging technology, allows me to work between muscle and tissue to repair the joint."
Less muscle and tissue damage to perform the replacement means faster recovery time for the patient. A few years ago, hip replacement surgery meant a four- or five-day hospital stay and a six- to eight-week initial recovery time. Patients then had another six to 12 months of limited activity to ensure their body had time to fully heal. Today, Chenger's patients are spending an average of two days in the hospital and experiencing about a three-week initial recovery period.
He said that patients who undergo the Anterior Supine Hip Replacement Procedure also have fewer post-operative precautions, which truly impact little parts of a patient's daily routine.
"For example, there is no need for patients to avoid bending over or crossing their legs," said Chenger. "And there is a much lower post-replacement dislocation rate."
The benefits to his patients in shorter hospital stays, faster recovery, greater mobility, and higher patient satisfaction have led him to only perform this revolutionary approach to hip replacement.
"As people are leading more active lifestyles and living longer, we're seeing an increase in younger patients with severe hip pain needing a full hip replacement," Chenger said. "When surgery is the only option for hip pain relief, this alternative procedure is much more appealing to a generation that needs or wants to get back to their daily routine as quickly as possible."
Link agrees and recommends anyone who begins to experience a change in their quality of life due to hip pain take action sooner rather than later.
"I suffered through the pain for several years," recalls Link. "When I could no longer enjoy doing things with my wife, grandchildren or my favorite hobbies like hunting and fishing, I knew it was time to do something."
With this new procedure, Link said there is even less to fear if arthritis sufferers think they may need a hip replacement.
"This is not your traditional hip replacement procedure," he said. "When your quality of life is impacted by physical pain that prohibits you from enjoying daily activities or activities you want to enjoy, don't put off seeing your doctor."
Patients experiencing hip pain should consult a physician. When medication, physical therapy and other non-surgical options no longer relieve pain that limits daily activity, a total hip replacement procedure by an orthopaedic surgeon may be recommended.
Published:
January 12, 2017
Location:
TriStar Centennial Medical Center