TriStar Greenview expands robot-assisted surgical options for knee replacement
TriStar Greenview introduces the Velys Robotic-Assisted Solution to south central Kentucky.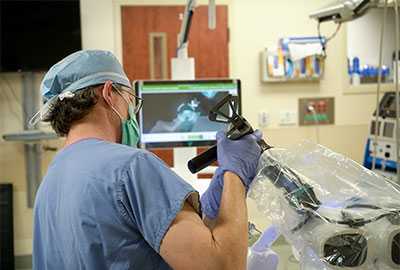 Bowling Green, KY — TriStar Greenview Regional Hospital has expanded the scope of its robot-assisted surgery program, adding a second orthopedic surgical robot to its lineup of leading-edge treatment technologies. Orthopedic surgeons will use the robot to perform total knee replacement procedures in both the inpatient and outpatient settings. TriStar Greenview is the first hospital to offer the innovative surgical technology in a five-state region that includes south central Kentucky, southwest Indiana, Tennessee, Mississippi, Alabama and the Florida panhandle.
"Orthopedic surgery has advanced dramatically during the past decade, and robotic technology is an excellent example of a clinical breakthrough that has enhanced our ability to perform procedures like total knee replacement," said Christopher M. Patton, MD, an orthopedic surgeon who practices at TriStar Greenview. "Our new robot ties together every phase of the surgical treatment process, from planning and performing the surgery to following up with patients after the procedure. This technology is a huge win for patients in south central Kentucky."
The Velys Robotic-Assisted Solution for total knee replacement enhances surgical workflow and allows surgeons to fine-tune each aspect of the procedure to the patient's anatomy. Surgeons use the system's assessment and planning features to create a precise surgical plan that personalizes alignment and balance. During the operation, surgeons use the robot's mapping technology to optimize implant placement, which facilitates stability and range of motion. These factors are key to providing excellent outcomes and long-lasting results.
"This investment in technology underscores our commitment to bringing innovative healthcare solutions to the greater Bowling Green community," said Mike Sherrod, CEO of TriStar Greenview. "This technology expands the options available to patients in our area who need total knee replacement and affords our surgeons a higher degree of personalization for each procedure."
TriStar Greenview's leading-edge robotic surgical program offers minimally invasive surgical options in orthopedics, general surgery and gynecology. The hospital was also the first in the region to implement an innovative augmented reality mapping system to enhance implant placement.
For more information or to make an appointment, please go to TriStarGreenview.com.
Published:
February 15, 2022
Location:
TriStar Greenview Regional Hospital
Related Newsroom Articles