Environmental services colleague at TriStar Hendersonville provides calming presence for surgical patient
Sharon Hebert, Housekeeper at Hendersonville Medical Center, makes a connection with a patient while cleaning her room and supports her during her surgery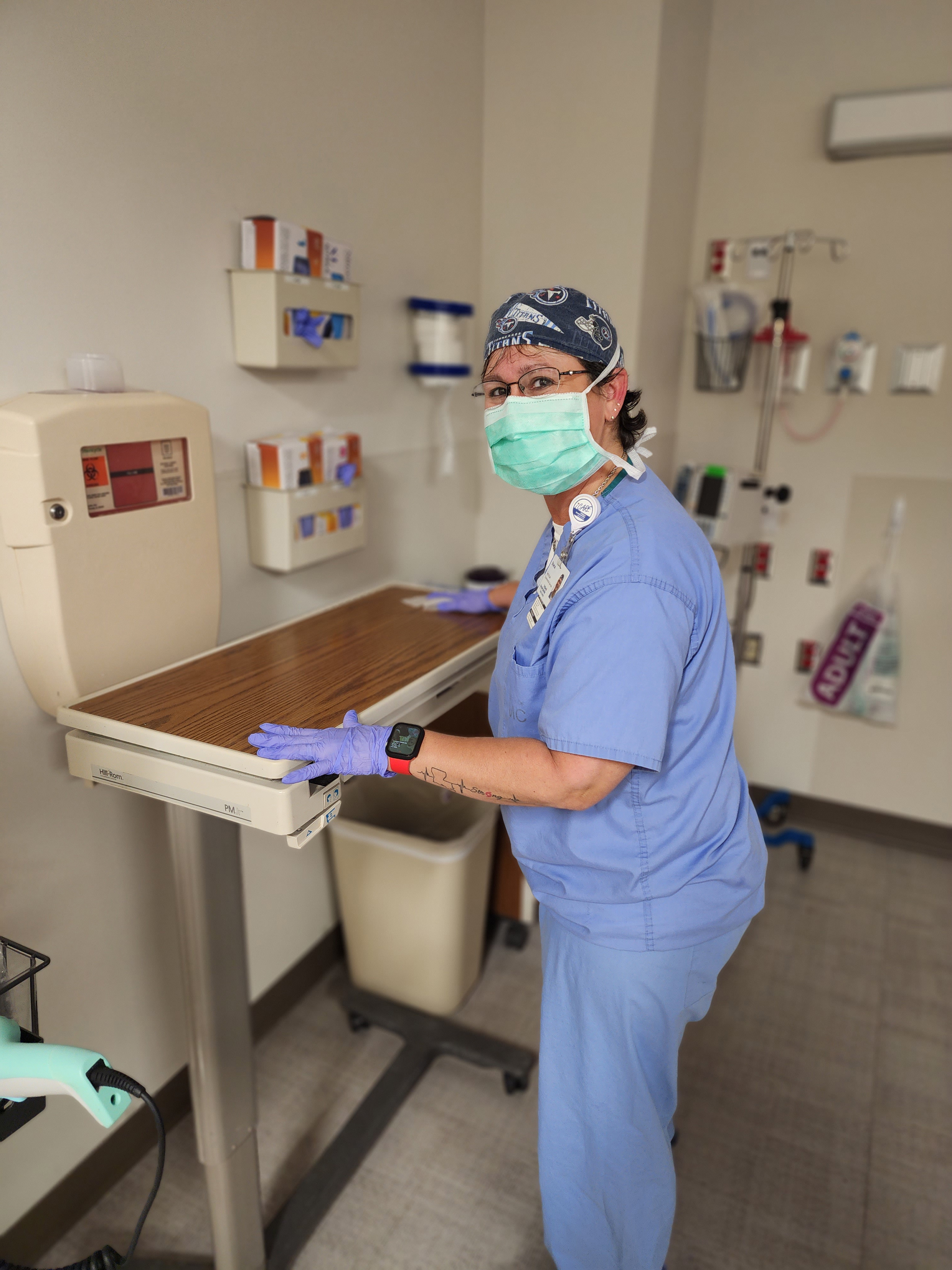 It was a chance encounter that brought Sharon Hebert, a housekeeper at TriStar Hendersonville Medical Center, into the room of a patient awaiting surgery the next day. On this particular day, Sharon, who typically works in the surgical services department, was helping on the medical/surgical nursing floor.
"I believe fate intervened that day," said Sharon. She was asked to do a daily room cleaning for a patient. When Sharon arrived, she immediately made a connection with the patient as she mopped, swept and wiped down the room. The patient shared with Sharon that she was fearful of her surgery scheduled for the next day, especially since she had no family members there with her.
"Because I work in surgery, I was able to share with the patient the team members who would be caring for her and I told her the years of experience they had," said Sharon. "I wanted her to know she was in good hands and that everyone would be there to make sure she did well."
Sharon also told the patient to ask for her when she arrived at surgery if she needed a hand to hold. When the patient arrived to surgery the next day, she asked for "Sharon from housekeeping." Sharon did not hesitate and came to stay with her and hold her hand until she went back for surgery. Sharon was by her side while they prepped her for surgery, continuing to hold her hand and keep her calm.
"Sharon's story is the ultimate example of how we care like family at TriStar Hendersonville," said Justin Coury, CEO. "I am grateful for Sharon's willingness to put our patients first and lead with compassion and kindness. We want our patients to know they are cared for both medically and emotionally when they come to our hospital for care."
Published:
February 24, 2023
Location:
TriStar Hendersonville Medical Center